BrilliantK9 delivers only the finest in American design and craftsmanship! Our Ergonomic dog harness is Modern Dogwear that truly makes a difference in both unparalleled performance and bold distinctive style. Custom made to order in the USA with a 7 year Guarantee!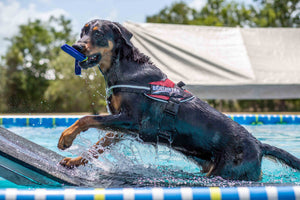 Let us take the guess work out. Get a beautiful dog harness easy as 123!
1. Pick a stunning color or pattern to design your dogs custom harness.
2. Enter your dogs information.
3. Let us craft your dogs perfect harness and take the guess work out for you.
Get Started
What Size is Your Dog?
Select the size of your dog from our collections below to get started.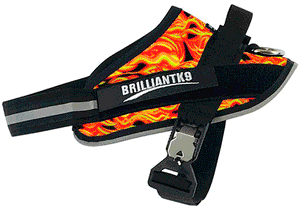 Colors and Prints galore!
We have an amazing selection of colors and prints to choose from. Make your dog harness as unique as your dog!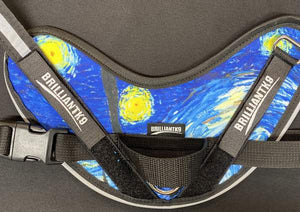 BE BRILLIANT WITH Custom Print Harnesses
Get in touch with your creative side and design your very own custom print harness that speaks to you and your dogs personality!
Medium Dog Harness
Medium-sized dog harnesses for medium dogs (20 to 50 lbs.)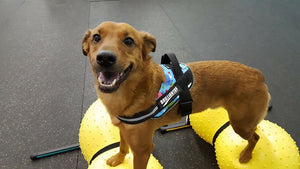 25 fully adjustable sizes for a perfect fit!
From teacup to giant - we ensure each dog gets the perfect fit. Other dog harnesses are offered in limited sizes, and no matter how adjustable, they do not fit the range of size from the smallest to the largest. Poor sizing leaves dogs uncomfortable, causing rub spots or dogs back out. Have a dog that's difficult to find something that fits, and works?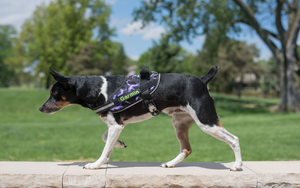 Allows your dog to walk and move in their natural gait
Traditional harnesses and collars put pressure on the dog's head, neck and rib-cage and promote pulling and straining against the device as a natural opposition response to restraint. The BrilliantK9 girth strap is behind the rib-cage, with the leash attachment mid back (behind the core strength), making it hard to pull if there is nothing to pull against. Their spine is in alignment, and they are able to flex at their natural pivot point.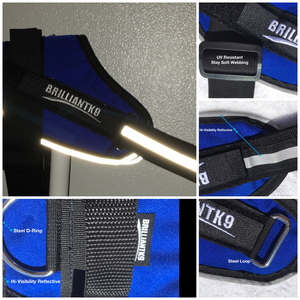 Long lasting and durable materials
Durable Design
BrilliantK9 delivers only the finest in American design and craftsmanship!
✔Highest Quality Durable Fabrics
✔Steel D Ring
✔Stay Soft UV Resistant Webbing
✔High Visibilty Reflective Trim
Lasting Quality
BrilliantK9 harnesses offer lasting quality will remain your dogs treasured walking tool for many years.
✔Easy to maintain, wash, and dry
✔No foam, felt or neoprene which causes heat build-up and can rot
✔We even repair them, because we believe quality is worth it
Let customers speak for us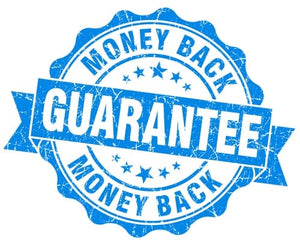 Money Back Guarantee
BrilliantK9 is so sure that you and your dog will love our Ergonomic Harness, that we offer a money back guarantee for 30 days, in restock condition, and a 7 year warranty on manufacturer defects.
Return Reasons:
- You don't like the color/print
- You are not sure it fits, let us know, we will exchange it for the right size
- You don't like the quality of the product for any reason
- You or your dog don't like it
- Your cat chews it... Sorry, that one is not going to fly.
Click Here for our detailed return instructions